On Sunday March 24, forty-four(44) young persons were recognised for their outstanding achievements in various fields at the Prime Minister's National Youth Awards for Excellence. The Award recognises youth who have excelled and contributed to national development, and seeks to provide a platform for youth to showcase their achievements in various fields. The Youth Enhancement Service was also given a Prime Minister's Service Organisation Award for outstanding contribution to youth development.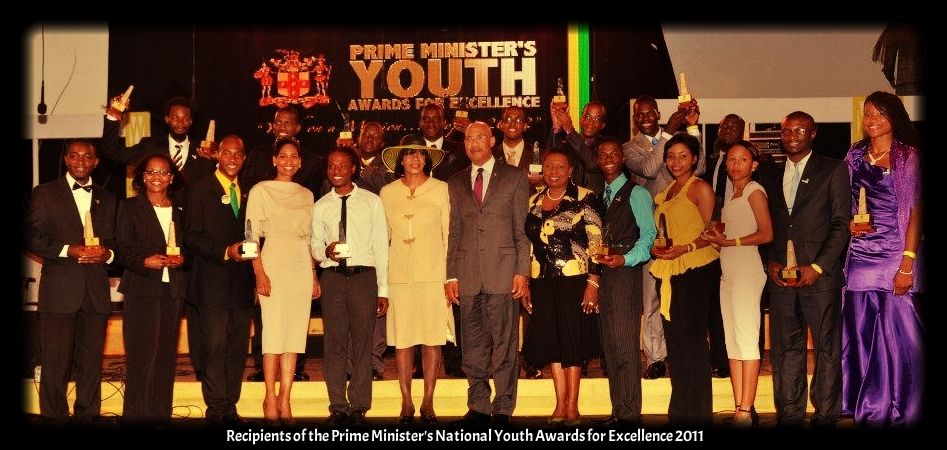 Recipients of the awards were chosen from nominations for 2011 and 2012. For 2012, a total of 20 young people received awards, while for 2011, 25 were awarded.
Prime Minister Portia Simpson Miller said she was extremely proud of the nominees and awardees for their invaluable contributions locally and internationally.
"You have imagined a life of achievement, a life of excellence and you have refused to accept mediocrity; you have refused to believe that obstacles were in the way that you could not fulfil your dreams, you have refused to place limits on yourself," Simpson Miller told the Award recipients.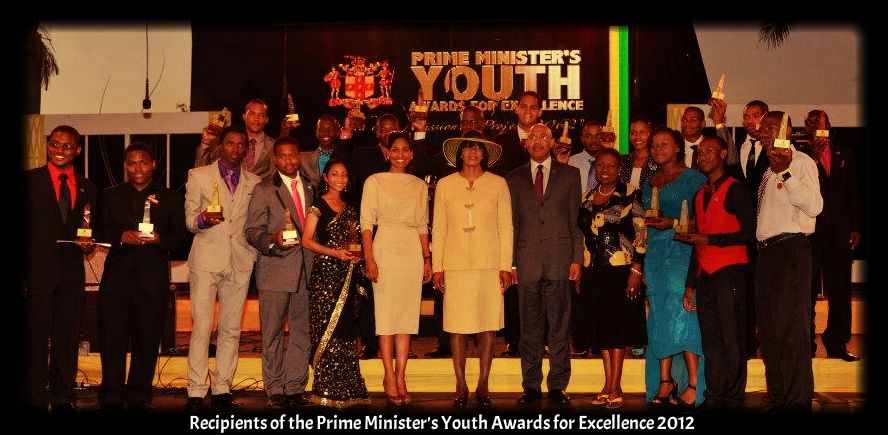 The Prime Minister urged the young people to continue to display optimism and encouraged them not to be daunted by the criticisms.
"I ask you that no matter your circumstances at birth, you are achievers and you can achieve greatness," she added. The Prime Minister said the awards were presented because of the hard work of the recipients and urged them to continue in this pattern. "Jamaica cannot maximise its potential for greatness and achieve what we need in the next 50 years without hard sustained work. You must try to build a quality society, a society that is characterised by excellence," Simpson Miller said.
2012 AWARDEES
Journalism
Simon Preston

Basilia Barnaby
Entrepreneurship
Agriculture
Arts and Culture
Chantelle Biersay

Romain Virgo
LeaderShip
Kenneth Gordon

Rashid Hall

Randy Goldson
Academics
Timar Jackson

Kimani Kitson Wlaters
Youth in Service
Jordon Bennett

Oniel Clarke

Caldon Shirley
International Achievement
Shevaughn Whyte

Devoy Raymond

Kimroy Bailey
Sports
Warren Weir

Alvas Powell

Alia Atkinson
2011 AWARDEES
Academics
Chenelle Anika Taylor

Maurice Anthony Smith

Kamille Grace Adair-Morgan

Delano Orlando Mighty
International Achievement
Entrepreneurship
Damion Nicarno Laylor

Sandre Russan Brown Malcolm



Journalism
Arts and Culture
Michael Dane Lewis

Randy Charlton McLaren

Brian O'neil Johnson

Kimani Taffarie Beckford
Leadership
Maxsalia Aisha Salmon

Orain Omega Edwards

Jerome Marlon Cowans

Eric Tahj McDonald
Youth in Service
Craig Dixon

Alrick Reid

Jermaine Lloyd Porter

Alecia Theslyn Angel Maragh
Sports
Ristananna Savinbreene Tracey

Kaydian Gayle

Jhaniele Karyl Fowler

Omar Duke Holness
Prime Minister's Youth Service Organisation Award
Youth Enhancement Service