Over 200 volunteers from the National Youth Council of Jamaica (NYCJ) and the Jamaica Union of Tertiary Students (JUTS) were on hand at the Port Maria Primary School on January 5, 2013, to complete clean-up work which the team began in December 2012. The school has been closed since the passage of Hurricane Sandy, and efforts were made by the team to ensure that the school could be re-opened for the January 2013 school term.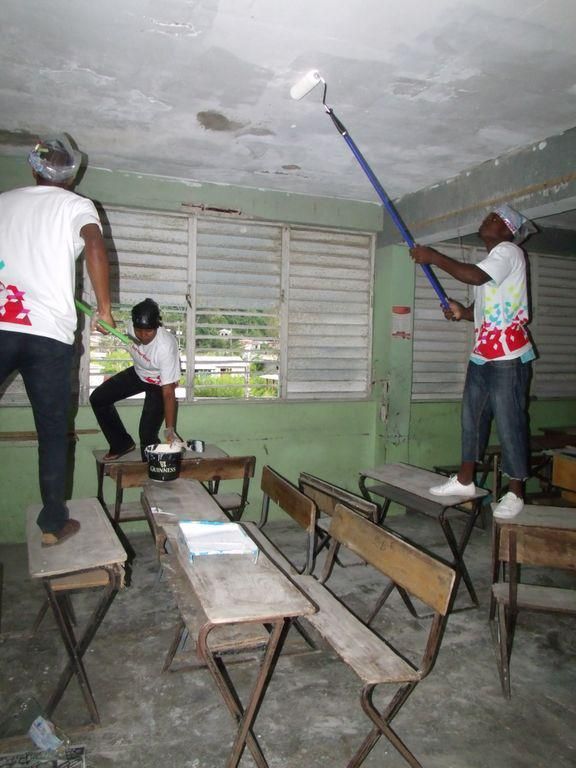 Mr. Ryan Small, Chairman of the NYCJ explained that the youth groups had noted the extensive damage done to the Port Maria Primary and were extremely concerned about the students, particularly those preparing for GSAT examinations who had to be placed in makeshift classrooms at church halls and community centres across St. Mary. The NYCJ and JUTS consequently mobilised their membership in an effort to provide support to the school. Approximately thirty (30) classrooms were painted, and made ready to accomodate students for the new school term.
Technical and financial support for the initiative was provided by the the Ministries of Education and Transport, the National Centre for Youth Development, Digicel Jamaica, Tru-Juice, Berger Paints, the Port Maria Parish Council, and Member of Parliament for Central St. Mary, Dr. Morais Guy.
News Reports on the clean-up activity:

CVM
http://www.cvmtv.com/videos_1.php?id=576&section=watch